14: Marty Jacumin – Bay Leaf Baptist, Raleigh NC
14: Marty Jacumin – Bay Leaf Baptist, Raleigh NC
Breakthrough ideas with Marty:
How can a church effectively reach all five of the generations alive today?
Wake Forest University is not in Wake Forest, North Carolina, and other learning.
Young leaders leaving seminary have a far greater chance to end up in a multigenerational traditional church.
Leading a multigenerational church may just be the most exasperating, frustrating thing you will love with all your heart. It is for this pastor.
The older generation can, and should provide as much energy as they provide wisdom in your church.
Learn to lead your ideal church right where you are… don't just hunt for it somewhere else.
The vast majority of churches are less than 200 in attendance… and most new pastors will step into a small church with an older generation.
If you want all generations to participate in the vision, cast a vision from which every generation can lead.
If we can get younger leaders and older leaders working together, it shows every generation the value of the other.
Love and shepherd people, don't just try to change them.
When your people know you love them and that you want to shepherd them, they will respond to your leadership and the changes you know need to happen.
People will stand in the rain to watch their kids sing.
What could happen if you took your traditional church events out into the community?
Look at what you're already doing and cast a vision to the church to leverage events to reach the community.
If your goal is to make people happy, sell ice cream. Not everybody wants to reach people; some will just want their preference in church.
Living into your unique personality and calling brings great freedom. Living without that clarity feels like a prison where someone else holds the key.
We don't make hard decisions to hurt people, but sometimes we make hard decisions that hurt people.
Embracing the beauty of every generation, not just the difficulty in leading every generation, brings new life into a church.
Lead your people to understand that they wake up on the mission field everyday… they don't have take trips overseas to be on the mission.
How can your church be more strategic through partnerships in reaching the community right around you?
Don't try to become the leader you think people think you should be, become the leader you God has created and is calling you to be.
What are the challenges, as well as the benefits, of succeeding a long-tenured pastor who wants to stick around the church?
Staying until you are old enough to retire is not a vision for your church… it is a vacuum that often sucks much of the life out of the church.
Spend time with your spouse every day. Listen to what they are telling you about what they see in your leadership.
Get the leadership input from those who are closest to you, because they know you best and love you the most.
Just because someone questions what you are doing, it does not mean they are opposed to you or what you are doing.
Questions do not mark an adversary; they often mark an advocate who needs more information than you are giving.
Shepherd your family as much as you shepherd your church.
Breakthrough resources in this episode:
Brothers, We Are Not Professionals by John Piper
Dangerous Calling by Paul David Tripp
Dr. Marty Jacumin was born and raised in the Foothills of North Carolina. He married his beautiful wife, Lori, in 1991 and they have three children. Marty is a graduate of NC State University and Southeastern Baptist Theological Seminary, where he also serves as an adjunctive preaching professor. Marty has served Southern Baptists as a trustee at Southeastern Seminary and North Carolina Baptists on the State Board of Directors. Marty also was privileged to be the President of the North Carolina Baptist State Convention Pastors' Conference in 2010. He has a great conviction and passion for preaching God's Word. Marty's desire to see the lost come to faith in Christ and to see believers discipled is evident in his writing, his preaching, and his everyday life.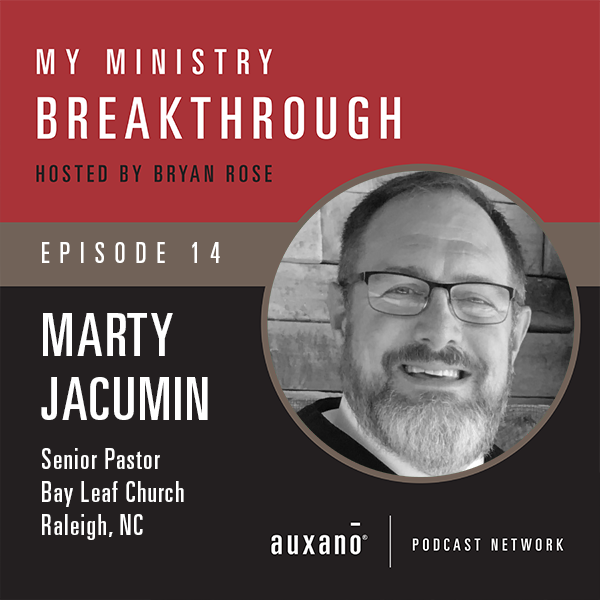 Podcast: Play in new window | Download
Subscribe: Apple Podcasts | RSS | More