2_04: Todd Wilson – Church Multiplication & Your Sweet Spot Calling
2_04: Todd Wilson – Church Multiplication & Your Sweet Spot Calling
Breakthrough ideas with Todd: 
What's the difference between a church plant and a church that's planted to be a church-planting church?
Imagine if somebody offered you a job where you're 100% in your sweet spot
What does it mean to work 100% of my time in your sweet spot?
God made the world with sweet spots. They're everywhere. You can't go anywhere without them. What would it even mean to be in the sweet spot of calling?
What are the common elements of all sweet spots?
Every sweet spot God created has three common things. There is a design, there's a purpose, and there's a position.
Who am I created to be? That's a design question.
What am I made to do? That's a purpose question.
Where am I supposed to do it? That's a position question.
If you can answer the position, design and purpose questions in an integrated way, you've found your sweet spot of calling.
You've got a ministry job, but do you have a vocational calling?
Over 90% of people in vocational ministry don't know what their calling is.
We start conditioning our kids from the time they're born, to focus on doing. Not on being. We skip the being.
People have spent their whole life on the doing and the going part, and not focused on the being part. And all of a sudden, they're realizing, "I don't really know who I am."
And we have to treat ourselves kind of in a mystery. We've got to be the investigator. Our life is the laboratory that we're investigating.
What we've got to do is go back to looking more at the ingredients that God has built into our DNA. Rather than just assuming the way that our family, our culture, our journey, our school, our church has put those ingredients together for us and kind of mandated the packaging,
The question is, are we going to look at it in a fresh way and discover what is there and how the integration of those things bring us to life?
What would you need to be doing that you'd want to spend the rest of your life doing it?
Does your church even want to multiply what you're producing?
We are all called to be disciples who make disciples wherever we are.
If you feel called to go half-way around the world to dig water wells somewhere you still have to not lose sight of the primary reason you're there is to be a disciple who makes disciples.
The core purpose of the church is disciple-making.
The truth in the American church at this point is we have embraced a programmatic approach to accumulating cultural Christians.
We are ignoring the primary calling in our churches of biblical disciple-making Jesus' way opting instead for a programmatic accumulation that relies on our secondary callings.
Jesus gave us a model for three years with 12 leaders. The way He's changing the world is through one on one disciple-making or small group disciple-making relationally.
Right now the average nominal operating system in the US church how do we add disciples? We add them programmatically.
We can't get where we need to be on our mission to see church multiplication happening if the church doesn't get back the Jesus-style or relational disciple-making as the core thing in the church.
Jesus could have chosen for three years to go and do big stadium revival events and drawn the most people in the world to do preaching and He could have added people that way. But he didn't.
But what Jesus did was give us a model of reproduction. A disciple who makes a disciple who makes a disciple who makes a disciple.
What program in the history of the world has ever reproduced itself on its own? Programs do not reproduce.
When you have a programmatic form of addition you will always hit the next plateau.
Programs will always hit a plateau and you've got to figure out a programmatic strategy to break the programmatic barrier.
Multiplication is not something you do immediately. It is the outcome of reproduction four generations in the future.
93% of US churches are not reproducing. Only 7% are.
What would the impact to the human population be if 93% of adults didn't have kids? Because we only have 7% of churches reproducing right now.
75% of the church plants that are being planted are not turning around and planting more churches.
Only one in four church plants is planting churches.
We have a double problem right now that's keeping us from multiplication We don't have enough churches that are reproducing and the kids that we are reproducing are cutting off the reproduction the first generation.
Churches have to wrestle through their paradigm of success. We have embedded so deeply in the operating system of the church a formula for success which is rooted in the wrong kind of addition
This journey of calling, I think it is so important for leaders of all ages to see themselves as the mystery investigator with a mystery to be untapped.
Your calling is something that's a life-long discernment, you don't all of a sudden arrive and have it perfectly, but every day, you got to
Who doesn't want to live 100% of the time in their sweet spot, so what is your sweet spot?
Breakthrough resources in this episode:
The Church Multiplication Challenge
Outreach Magazine's Reproducing 100 List
The Five Most Important Questions an Organization Will Ever Ask by Peter Drucker
Todd Wilson is the founder and CEO of Exponential (exponential.org), a national non-profit ministry whose core focus is distributing thought leadership through conferences, books, podcasts, software, and small group learning communities. Todd is also the co-founder of discipleship.org, Passion for Planting (church-planting.net), Made for More, and the Multipliers Project.
Todd received his B.S. in nuclear engineering from North Carolina State University and a master's degree equivalent from the Bettis Atomic Power Laboratory. He spent 15 years serving in the Division of Naval Reactors on nuclear submarine design, operation, maintenance, and overhaul. After a two-year wrestling match with God, Todd entered full‐time vocational ministry as the Executive Pastor at New Life Christian Church where he played a visionary and strategic role for several years as New Life grew and implemented key initiatives such as multisite, externally focused, and church planting.
Todd's passion for starting healthy new churches continues to increase, and he now spends most of his energy engaged in a wide range of leading edge and pioneering initiatives aimed at helping catalyze movements of healthy, reproducing churches.
Todd lives in Manassas, Virginia, with his wife Anna. They have two grown boys, Ben and Chris, and two beautiful daughter-in-laws, Therese and Mariah.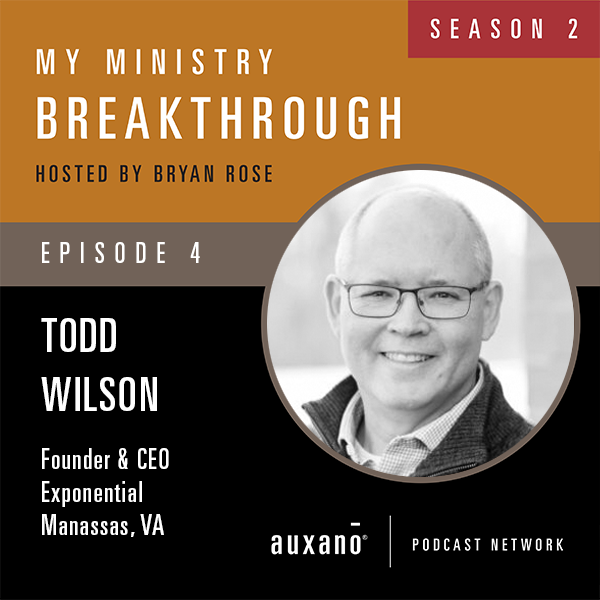 Podcast: Play in new window | Download
Subscribe: Apple Podcasts | RSS | More