2_07: Cory Hartman – Stop wasting words convincing people to show up
2_07: Cory Hartman – Stop wasting words convincing people to show up
Breakthrough ideas with Cory:
How can you use the written word to extend your reach?
Is there a way to leverage your weekly content to make disciples?
What are the best possible ways to shape and leverage your content for disciple-making outside of your Sunday service?
The church is a content factory every week, creating a ton of content, yet we're not taking advantage of it outside of the sermonic moment.
Are you maximizing the channels to communicate the gospel?
The one who works longest is the one who is most devoted to the ministry of the word, right? Maybe not.
How do we give gospel-shaped answers to the questions that people are actually asking?
There seems to be a divide in the philosophy of preaching with felt need, seeker-sensitive on the one side, and expositional verse-by-verse gospel-centered on the other side. I don't see why those are two sides.
The questions that people are asking, they have deeper questions in life. We're all walking around with the more profound questions in life.
What does it mean to have a gospel-centered, gospel-shaped Biblical answer to the question is my boyfriend cheating on me, and how do I know?
When we can speak to a surface-level tension, there's an avenue to this more significant, kind of gospel-centered question.
When you look at the messages that you send: your bulletin or worship guide, look at your website, look at your social media feed, and look at all the different ways that you're communicating to other people. The call to action is to show up.
Show up to Sunday morning worship, show up to the small group, show up to vision night, show up to community outreach, show up to youth group, show up to whatever.
Did Jesus tell us, "Go ye into all the world and tell people to show up?"
Jesus did not say: "Guys, whatever you do, as the father has sent me, so I am sending you to get people to show up, you have to get people to show up."
When the vast bulk of our content is telling people to show up, what are we communicating there?
Is our primary message akin to what the Lord told us that our central message was supposed to be?
How are we sending a "grow up" message to people in their personal and spiritual growth according to the Good News that the Lord has given us?
Communicate opportunities to grow up into something as much as you communicate opportunities to show up for something.
You don't have to wait for Sunday or wait for the right Sunday. You don't have to wait for that to try out the Christian life. Just try it.
We can talk to the skeptical person; we can speak to the secular person, we can talk to the person who's disaffected from church and say, "Before you even come to church, try this Jesus thing. Just take this one teaching of his and put it into practice in your life this week and see what happens."
People are showing up to church less, but they still maintain the same level of perceived connectedness.
They still call it "my church" even though versus ten years ago, attendance rates are down. And in some cases, giving is remaining the same, which is fogging the lens on what's happening.
It is more biblical to say a disciple is someone who shows up. So rather than put the attendance ahead of discipleship, we need to put discipleship forward of presence.
How is the church going to make disciples in the networks of people's relationships beyond the four walls?
Social media is one of those networks, one of those networks that our people are in, apart from the four walls of the church, that sharing the gospel should take place.
If we're diligent about posting helpful enough content, maybe we are equipping our people to share with the people around them that are hurting and struggling and have questions.
Facebook could be the new Monday night visitation.
Well-designed, well-curated content shared appropriately could be that next Monday night visitation or Chick Tract with the four spiritual laws.
Evangelism, even if it was a little bit of a scary word, was a word in the lexicon of our church ten years ago. Not any more.
Not being equipped makes it difficult for people to share the gospel.
There's so much baggage with the word evangelical. It's a political party now, not a posture of believers in kind of an overflow of their life.
Instead of talking about how social media channels weaken our faith and weaken the connection between people and are a stumbling block, what if this could be a strength in this new evangelical age?
Does anybody read blog posts anymore? I think the answer is yes.
We've been sitting with the internet for a generation, still trying to figure out how to best tailor the content as the Church.
One of the things that the church has missed along the way is the relationship between what happens online and what happens offline.
The written word is valuable in part because it is so snackable and so skimmable.
Your first few years in ministry are primarily about growing you into the kind of branch that will produce fruit someday.
In God's plan, the next long season of your life is not mainly about how he's going to use you to help people become like Christ, but mostly about how he's going to use people to help you become like Christ.
Try to relax, and don't be afraid to relax a little that if you relax a little, you're going to relax too much, because you're not capable of relaxing too much.
Your church would be happy to keep you forever, but they deserve better than a pastor who is continually thinking about the next thing.
The choice that we make at that moment, whether to leap or not leap, itself has no bearing whatsoever on whether God loves us or not.
Breakthrough resources in this episode:
From Show Up to Grow Up by Cory Hartman
Albion's Seed: Four British Folkways in America by David Hackett Fischer
Younique: Designing the Life God Dreamed for You by Will Mancini
Cory Hartman is the founder and principal writer at Fulcrum Content, the company he launched to equip churches for disciple-making and help leaders extend their reach with the written word. At Fulcrum, Cory serves as a collaborative author for thought-leaders, provides editing and self-publishing assistance, writes original online pieces, adapts audio and video content into engaging articles, writes marketing copy, and crafts custom-built discipleship material. Cory served as a pastor for 13 years in churches in Pennsylvania and New Jersey. He earned a doctor of ministry degree from Gordon-Conwell Theological Seminary with a thesis on 19th-century educator, revivalist, publisher, and abolitionist Mansfield French. Cory previously earned an MDiv from Gordon-Conwell in urban ministry and a BA from Taylor University in biblical literature. Cory's letters have appeared in such publications as the Boston Globe and the Newark Star-Ledger, the latter winning the paper's Silver Pen Award. He is the author of From "Show Up to Grow Up": How to Make Top Content That Makes Real Disciples and On Freedom and Destiny: How God's Will and Yours Intersect. A native of central New York State, Cory's family roots are in central Pennsylvania, where he now lives with his wife Kelly and their four children.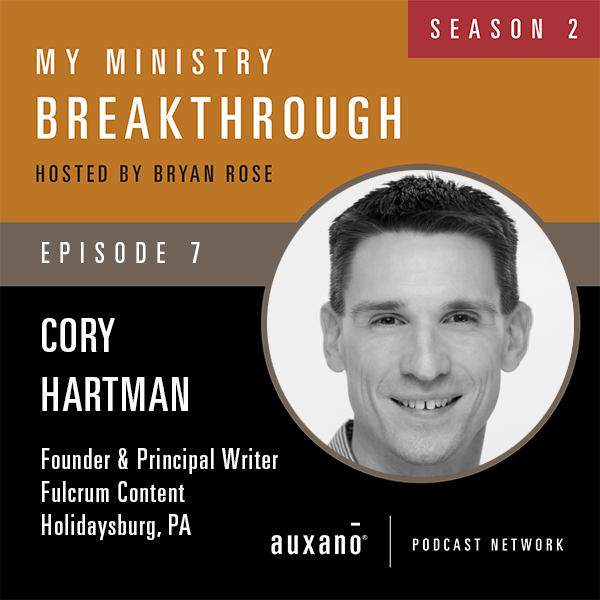 Podcast: Play in new window | Download
Subscribe: Apple Podcasts | RSS | More