10: Chris Driver – Fifth Street Baptist, Levelland TX
10: Chris Driver – Fifth Street Baptist, Levelland TX
Breakthrough ideas with Chris:
The ethos of six-man football reflects the grit and resilience of small-town life on the west Texas plains. It also inspired this church's vision.
Who will reach the small town? Who will take the gospel to those places that were once the center of life in our rural communities?
This church of 80 has plans to plant 100 churches, and God is providing in exciting every resource they need. How was your weekend?
Three church planting breakthroughs from the south plains of west Texas.
What does church planting look like in the small towns of west Texas? Learn about Fifth Street Baptist's disciple-making mission points.
What does authentic and effective discipleship look like in a small town?
Small town residents understand living in community – you don't have to teach that. But they desperately need to experience Christ-centered community.
You don't have to teach community and caring for each other in the small town, you just need to connect it to Gospel purpose.
God delights in using small things in big ways. Here is an example from the southern plains of west Texas.
How do we let our people truly invest in each other's lives? Community is bigger than just having Sunday school or small groups.
What happens when a church has a lot of history but not a lot of legacy?
Years spent in existence as a church do not automatically amount to multiplication influence in the community by the church. Hear the story of one established church leaving a legacy.
This church believes that reaching 10 people in 100 small towns is the way that a church of 80 can reach 1000 people each week.
Relationships overcome geography when discipleship looks like this.
What happens when you really believe that discipleship is for every believer not just the spiritually elite?
Claim ownership of your own discipleship first. Stop waiting for someone to disciple you and start being a disciple maker.
Effectiveness in the small town means that every man woman and child can realistically hear the gospel and have a chance to respond. Here is one way.
A church of 80 attendees has planted five churches in the last 18 months. How is your multiplication strategy working?
Smaller is easier to reproduce. There is something to being a simple church in simple places with simple people sharing a simple message.
Is your operational vision bigger than just more people in weekly worship? It should be.
You can sometimes make people do what you want them to do, but vision ownership like this goes beyond getting what you want to be done.
What happens when a church starts the multiplication process as soon as they start meeting. What does it mean to be "born pregnant" as a church?
God has not forgotten the small town. He has a plan and a purpose to do big ministry in small places.
Get out of the office. You cannot influence people you're not in contact with.
Busyness in the office does not equate to effective ministry. Ministry "along the way" reflects the way of Jesus.
Irresponsible vision reflects an indescribable God. Be faithful with what He has given you and leave the results to Him.
Breakthrough resources in this episode: 
Download the whole Fifth Street story: Big Vision for Small Places
Real Life Discipleship by Jim Putman
Chris Driver is the Senior Pastor of Fifth Street Baptist Church in Levelland, Texas. Chris enjoys coaching youth sports and is passionate about the sport of six-man football.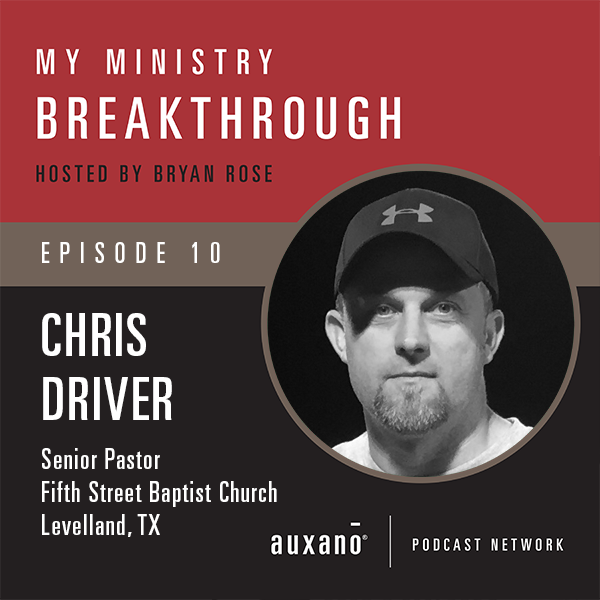 Podcast: Play in new window | Download
Subscribe: Apple Podcasts | RSS | More