21: Carol Pipes – LifeWay Communications
Breakthrough ideas with Carol: 
Church leaders need to be intentional with their communication beyond just Sunday sermons.
The first question to ask in excellent church communication is "Who is the audience?"
Shape the message to the intended audience to maximize effective communication.
There are multiple channels to communicate with your church beyond sermons and emails.
Small groups and Sunday school classes are great communication channels.
Use every channel available to communicate; a repetitive and consistent message is critical in excellent church communication.
Until you are tired of saying it, your people have likely not yet heard it. Excellent communication requires ongoing repetition.
You can train your congregation to look to specific places for needed information.
The medium you use in communication may depend on the message you need to share. Not every message gets shared in the same way.
Important visionary moments need to be communicated face to face. An email can do more harm than good in times of change.
When you have a significant change happening, people may react strongly. Being in the room, at the moment, becomes critical when communicating change.
Excellent communication asks: Who is the Audience? What is their Message? Which Medium is best? In that order.
As a church leader, you compete for peoples attention and time. People are oversaturated with media today.
Attention spans are short; your message will get lost without intentional, repetitive communication.
The secret to communication lies in breaking through the cultural noise. Therefore repeat your message. Then repeat it. After that, repeat it once more.
Stories are the best vehicle for communicating important messages. Tell stories wherever you can. Testimony is the currency of transformation.
Stories are going to flow from your congregation when you are asking precise questions.
The church should be speaking into cultural topics because we can shine the light of the Gospel into dark moments.
Reporters are not bad people, just people trying to tell good stories, and serve their community.
Church leaders have a unique insight into the community and can serve as a source of information and perspective for local news outlets.
Build relationships with local news reporters and build trust with news agencies… trust leads to voice and opportunities to share the gospel of Jesus in times of challenge and celebration.
Developing a level of two-way trust with local news reporters opens the door for a pastor to speak biblical truth into current events and issues.
When a reporter calls, do not freak out – it's not necessarily negative. Don't be afraid to say no, not right now, or I don't know… but do respond in some way.
Because you've developed a relationship of trust with local media, you will have the opportunity to share the Gospel.
Cultivating and being responsive in relationships, and being empathetic to reporters, opens the door to share the Gospel.
Be consistent with your message; do not be afraid to repeat yourself even if it feels weird.
Lead the narrative. If you don't communicate what is happening, other people will tell your story for you.
People will fill in communication gaps. If you don't tell the story in a crisis or challenging situation, someone else will try to do it for you.
When do you need to communicate face-to-face, as opposed to sending an email? In times of challenging communication, nothing beats being in the room.
How you communicate could build trust even in times when trust is broken.
Surrender to God daily. Give Him your day, every day.
Breakthrough resources in this episode:
Elements of Style by Strunk & Campbell
On Writing Well by William Zinsser
Carol Pipes is the director of corporate communications at LifeWay Christian Resources and editor of Facts & Trends. Carol has worked in Christian publishing for 18 years, during which time she has written numerous magazine articles and previously served as editor of On Mission for the North American Mission Board. A Tennessee native, Carol lives in Nashville with her husband Keith, who leads the music ministry team at Friendship Community Church in Old Hickory. Carol loves writing about the mission of God carried out through His Church. Follow her on Twitter @CarolPipes.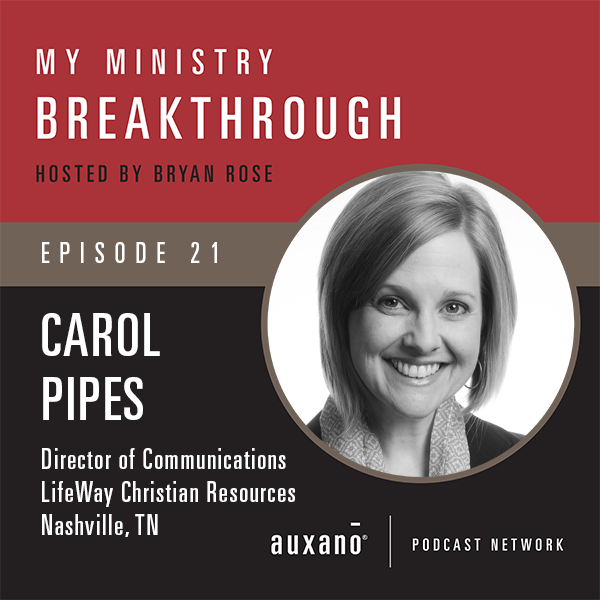 Podcast: Play in new window | Download
Subscribe: Apple Podcasts | RSS | More