13: Kelly Kannwischer – Younique
Breakthrough ideas with Kelly:
Building a strong leadership culture brings out the best in all of your leaders.
Churches are generally great at helping people live out their general calling, but it takes high intentionally to grow people within their special calling.
What is God's calling for you, in this life stage, at your location, with your circumstances and your specific gifts and talents?
There are only two questions a church should ask: What is our process for making disciples? Is it working?
How does your church help every member understand and live out their unique identity?
There is a distinction between a person's calling and their vocation.
The church can unintentionally place volunteers into roles that affect the joy of living in their calling
Churches have an opportunity to shift the leadership culture from "What do we want from people?" to identifying and releasing people to live into their call.
How can the church be viewed as a place where strength, skill, and expertise help it become a disciple-making training ground for everyday life?
The church can and should be the training ground for gospel-centered life design.
What if your church had the reputation of developing called people to such a degree that marketplace leaders look there first for new employers?
What is gospel-centered life design? What does that look like in the church?
If we are going to ask questions about our identity, we must ask them in the context of our creator and His unique design for us.
Our calling is revealed over a lifetime when we see God's shaping of our life as discipleship.
Learning how to listen as leaders is often more important than learning how to speak.
You can make better decisions by asking questions out of security and peace.
Questions from your other leaders are not necessarily those people questioning you.
Strength and vulnerability are twin ideas, not opposites.
Productivity looks different in different seasons of life. Sometimes just getting the chores done is the highest form of accomplishment.
Success should be measured less in how much money you make and more in how you live out your unique life call.
When people get an insight into the power of their call and begin to live in it, they have an even greater idea into the calling of the church.
How can personal clarity within your congregation engage the organizational clarity of your church?
When the people receive the gift of calling, it makes it easier to obtain and engage the leadership pipeline of the church.
Take the long view, there should be a sense of urgency in your work, but urgency shouldn't lead to panic in the system.
God wants you to be a whole healthy person, as much as He wants you to be a productive, intentional leader.
Breakthrough resources in this episode:
Girl Meets God by Lauren Winner
Divine Conspiracy by Dallas Willard
Kelly Kannwischer has spent her vocational life as a not-for-profit executive, consultant, and development professional. Before becoming the CEO of Younique, Kelly founded OptUp Consulting, served THINK Together as the Chief Engagement Officer, and led Vanguard University as a Vice President and President of the Vanguard University Foundation. Kelly graduated from the University of Virginia and earned her Masters degree from Princeton Theological Seminary. She is married to Rev. Dr. Richard Kannwischer and is the proud mother of two teenage girls.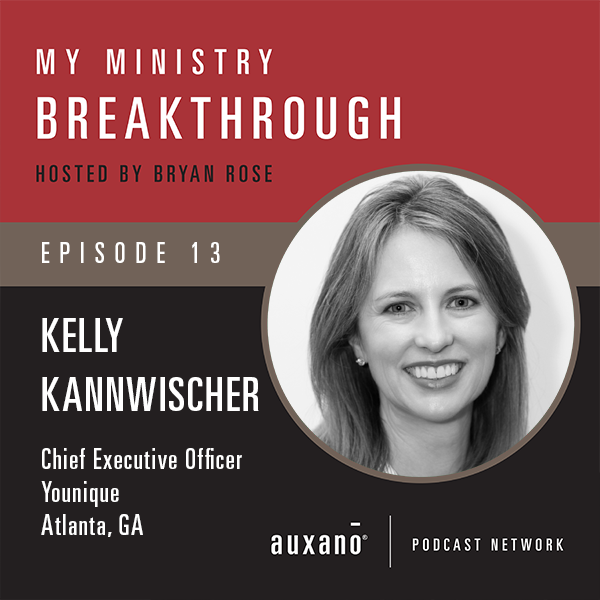 Podcast: Play in new window | Download
Subscribe: Apple Podcasts | RSS | More