16: Jeff Meyer – The Church, Madison WI
Breakthrough ideas with Jeff:
If your church is going to reach your city, your people must embrace their calling as missionaries.
Do our seminaries train us to only care for people inside the walls, and not those outside the walls?
Are we helping Jesus followers in our churches to be fully engaged in the community?
If a church is going to be relevant, we must care for our city as much as our church.
Do you understand that your faith gives you outsider status within your community?
Jesus followers are no longer leading the conversation in our communities. We no longer have a voice in the public square.
An insider protects and preserves, an outsider penetrates and listens to influence for Jesus.
Listen to your culture and then speak the gospel into the culture.
How would Paul be on Facebook if Acts 17 was rewritten today?
How can we do less teaching in our sermons and more training with assignments?
What does training missionaries every Sunday look like?
Every leadership moment is an opportunity to train, even your board meetings.
How often are you revisiting the demographic and social trends in your community?
Your church is in a bubble. Therefore you must regularly research your community.
Provide environments where people can explore creativity and live in their design as co-creators.
What are you doing to follow Jesus? This question can change every leadership meeting you lead.
How are you following Jesus? Who are you helping follow Jesus? These are the only two questions you need to be and make a disciple.
Discipleship boils down to How and Who. Ask yourself and others these two questions.
Intentional engagement of life in Christ always comes back to How and Who.
Is it time to step down as CEO and step into the CMM (Chief Missionary Maker) role for your church?
Pastor your church with a life-long view… you cannot change a church overnight.
Simply preaching, teaching, and telling others what to do is not pastoring. Pastors lead as missionaries first, then explain, train and equip.
We can spend all our time on the temple and in the temple and miss the Jesus of the temple.
Is it possible to build a church and not engage the Great Commission?
Some of the so-called, most effective church leaders are not truly as effective as missionaries.
It is not your job to measure the spiritual growth of your people, but it is your job to create the environments and resources that help your people grow spiritually.
The more significant influence of the church is its members living as missionaries.
Is anyone coming on Easter anymore who isn't already connected to your church?
What does incarnational ministry look like in your neighborhood Pastor?
What if instead of keeping our people busy, we equipped our people to be engaging?
Think with missionary minds to go outside in, and then equip your people and train them to go inside out on the mission.
Our job is not to get more people to come to our church; our job is to help more people see Jesus through our church.
It's a battle to get people to live every day as missionaries and not just show up for service on Sunday.
Can the real voice of the church in her calling be heard over the sound of a single pastor?
Are your leaders fighting for the shared, God-given vision of your church or a comfortable consumer-driven vision of your church?
None of us have lived in this current church culture, maybe its time to free our people up to fail forward in reaching this culture.
Some of the best leadership moments are found by not having an answer, but instead by leading conversations.
Live what you are going to lead. Sometimes we lead without living, and that is not true discipleship.
Don't worry so much about being a leader… focus on following well. Leaders Follow First.
Breakthrough resources in this episode:
Fear Not, Dream Big and Execute by Jeff Meyer
The Artists Way by Julia Cameron
In addition to consulting and coaching Christian leaders and organizations, Jeff Meyer is the lead pastor of a local church in Madison, WI, where he has served since 1998. (www.livelifetogether.com) Outside the church, Jeff is committed to helping people discover their entrepreneurial mojo because dreams are meant to live. He works with non-profit executives, CEOs of private companies, and entrepreneurs of all stripes. His expertise includes organizational leadership, operational planning, time management, and personal development. Author of the book "Fear Not, Dream Big & Execute:Tools To Spark Your Dream And Ignite Your Follow-Through", he longs to see people reawakened to their unique contribution and to help them live out that calling with competence and courage in an ever-changing world. Jeff received his Master of Divinity from Concordia Seminary in St. Louis, MO. You can follow him at jeffmeyer.org and on Facebook.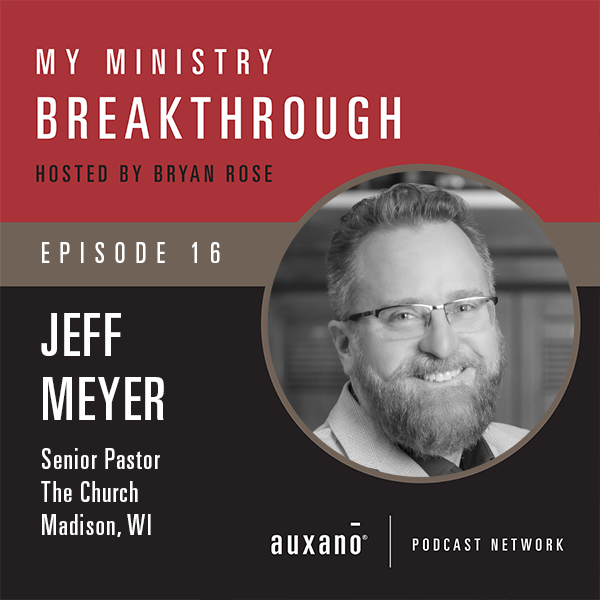 Podcast: Play in new window | Download
Subscribe: Apple Podcasts | RSS | More