Breakthrough ideas with Eric:
Leadership transitions will always happen, but what actually makes succession a success?
Following God involves holding two conflicting emotions in tension: grieving what has been and anticipating what will be.
There will always be unfinished work. The "unconquered territory" reminds us the work is God's not ours.
How can pastors keep their heart connected to the community they are called to reach?
In seasons of transition, caring for your family is as important as the mechanics of moving.
When it comes to your family don't try to be perfect… just be ordinary. There is beauty in an ordinary marriage.
The demands of ministry will never be satisfied and making approval an idol will end in ruin.
People will always be disappointed in some part of your ministry; therefore slow down, care for your family, and play the long game.
Breakthrough resources from this episode:
Love Without Walls  by Laurie Beshore
Designed to Lead by Eric Geiger & Kevin Peck
Simple Church by Eric Geiger & Thom Rainer
How to Ruin Your Life by Eric Geiger 
Spiritual Leadership by Oswald Sanders
The Cross of Christ by John Stott
E-Myth Revisited by Michael Gerber
Eric Geiger is the Senior Pastor of Mariners Church in Irvine, California. Before moving to Southern California, Eric served as senior vice-president for LifeWay Christian Services. Eric received his doctorate in leadership and church ministry from Southern Seminary. Eric has authored or co-authored several books including the best selling church leadership book, Simple Church. Eric is married to Kaye, and they have two daughters: Eden and Evie. During his free time, Eric enjoys dating his wife, taking his daughters to the beach, and playing basketball.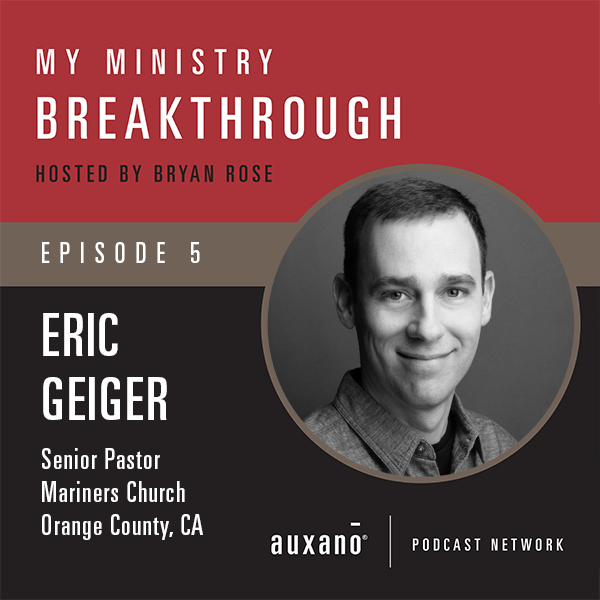 Podcast: Play in new window | Download
Subscribe: Apple Podcasts | RSS | More