17: Nick Floyd – Cross Church, Northwest AR
17: Nick Floyd – Cross Church, Northwest AR
Breakthrough ideas in this episode: 
It is essential to stop and recount the faithfulness of God. Keep memorials in front of yourself and your people to mark how God has moved.
What are the characteristics of a church built on dynamic worship and strong biblical teaching look?
You cannot reach your community until you know your community.
First, understand the culture you are called to reach, and then be intentional in how you lead them in, and toward, the gospel.
What are the front door events within your church that engage those in your community who wouldn't naturally attend on a Sunday morning?
What is the difference in being a college church versus being a church with an active ministry to college students?
Being a church for every generation means being wise and intentional with everything you do… from how you worship to how you dress.
What is your standard of excellence in reaching people? Does this standard affect everything – even how you dress?
How do you steward and strengthen standards of excellence within the culture of your church?
Young leaders can reach older generations in a professional culture, as well as build confidence, by being intentional in small ways, even down to how they dress.
Your building only limits your ability to reach people in the ways that you allow it to. Thinking beyond the box is a critical skill.
Constantly, identifying and developing new leaders is the key to maintaining healthy systems and sustaining growth.
Leverage natural moments of connection, like Christmas and Easter, to recruit and engage new people in serving.
Volunteer leaders who are invested help recruit new volunteer leaders. Sold out leaders call out leaders.
To grow people and to grow a church, the staff must have the heart to raise and enlist others to do ministry, not just do it all themselves.
Continually re-establish the culture of development among your staff. You cannot rest on past recruiting success, even for a week.
Great people developers are leaders who are always with people. It's not that hard.
When you are with people and have the heart to serve people, development and impact happen.
Numbers aren't everything, but they do provide insight to the health and growth of a church.
The misuse of numbers in the past often causes church leadership today to run from healthy, and even Godly, ways to connect and keep up with people.
Keeping track of numbers, especially baptisms, helps keep track of the effectiveness of your mission.
Numbers do not tell the whole story, but they do provide a snapshot of the health of your church because disciple-making is a multiplicative action.
Do not be afraid to set goals around things that seem to be only a work of the Holy Spirit, because God will work through your intentional leadership. Healthy goals act as a reminder to lead and serve people well.
Campus pastors will be continually jolted with the shock that they are not the senior pastor. Understand this and lead accordingly.
Second chair leaders must realize that they are not the leader; God has not placed them in the primary leadership role. Therefore trust what God is doing in that first chair leader, even if you disagree.
In the second chair role, when conflict arises, choose to affect what you can. Focus on the things that you can change, not those things you cannot.
There is something that God honors and blesses when people who are under God's authority follow His leading.
What do you do after achieving a significant milestone like moving into a new building? How do you keep peoples' focus on the mission, beyond just the means to accomplishing the mission?
Spend time with the Lord in reading the Bible, every day and keep a prayer list that keeps you focused.
Young leaders must know that you cannot skip over the next ten years of your life. You're not ready for all that the Lord has for you and this season is training and preparation.
Let the Lord do what he wants to do in you, then wait for Him to bring the leadership to you.
Breakthrough resources: 
Master Plan of Evangelism by Robert Coleman
Intimacy with the Almighty by Charles Swindoll
A Tale of Three Kings by Gene Edwards
Dr. Nick Floyd serves as the Lead Teaching Pastor & Staff Leader for all four campuses of Cross Church Northwest Arkansas. He teaches weekly at the Fayetteville Campus. Nick received his Bachelor's degree in Biblical Studies from Liberty University and his Master of Divinity from Southwestern Baptist Theological Seminary. He obtained his Doctor of Ministry degree from Liberty Baptist Theological Seminary. Nick is married to Meredith, and the couple has four children.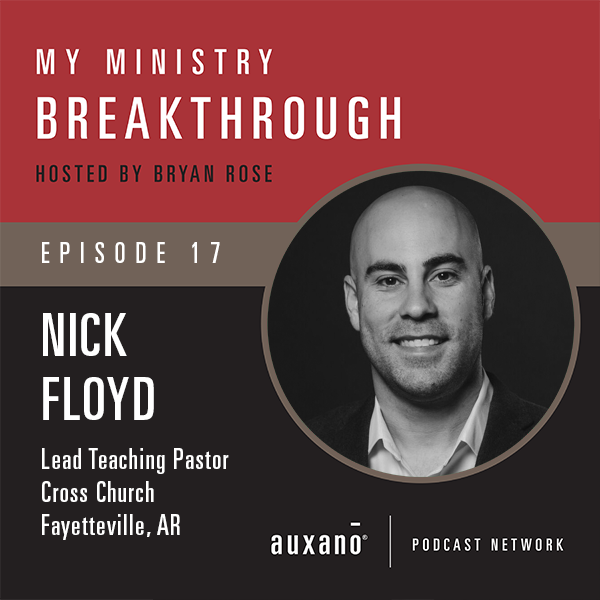 Podcast: Play in new window | Download
Subscribe: Apple Podcasts | RSS | More