19: Chad Keck – FBC Kettering, OH
19: Chad Keck – FBC Kettering, OH
Breakthrough ideas with Chad: 
It is possible to out-envision your vision by building and buying too much.
How do you lead when your available ministry budget is less than 5%?
How do you lead active ministry when there are no resources?
Relationships and caring for people do not require a lot of money.
What might God do If you set aside substantial time to pray every Sunday?
What if prayer in your worship services was more than just a transition?
What if prayer in your staff and congregation was more than something you did and was something you are?
Prayer turns the mentality of your church from "what can we do?" to "what can God do?"
Instead of asking why did God allow this? What if you asked, "what is God doing in this?"
The great commission does not call us to "Go and Build Buildings."
Inward focus distracts from your outward calling.
Until the problems of who is not here become a greater focus than the preferences of who is already here you will starve the Great Commission.
When it seems like every obvious clue says no way, sometimes the Spirit says go anyway.
There is no church that God is not big enough to revive.
You can only play the "…because I'm the pastor" card once.
Trust is built by being transparent and deal directly and honestly with critical issues.
Your church has a functional mission, survival, making a budget, building a building.
It doesn't cost anything to train people and become a more welcoming church.
Does your structure help you accomplish the mission or does it stand in the way of your mission?
When is it time to change your structure from committees to elders?
In most cases, you will struggle to out-give an overbearing debt but you can out-grow the debt by making disciples.
Whether you've incurred or inherited an overwhelming debt, reaching and making disciples impacts more than campaigning.
Nothing inspires people about getting out of debt, but life change moves hearts and minds.
It doesn't cost any money to make a couple of calls and recruit volunteers to welcome THIS SUNDAY.
Embracing the outsider with hospitality is reaching people as Jesus commanded.
There is a way out, no matter the size debt or challenges, God is bigger than those moments.
Stick with what God has planted in your heart – when He called you to the church, God knew what the problems were even if you didn't.
Own your mistakes and be honest – genuinely love your people, and they will love you back.
Practice tactical patience, you don't have to get involved in every situation.
God will honor faithfulness – He loves your church more than you do
Is there a difference in giving God your "first time" versus your "best time" every day?
Why is it important to be gentle and friendly with those you disagree with?
How do you shift from assuming the worst in disagreement to thinking the best in someone?
Breakthrough resources:
Brothers, We Are Not Professionals by John Piper
The Treasure Principle by Randy Alcorn
I Am a Church Member by Thom Rainer
Chad Keck currently serves as the Senior Pastor of FBC Kettering, OH. He is married to Candace, and they have four children; Hadley, Shepherd, John, and Calvin. Chad also is an adjunct professor at Cedarville University and works for the Executive Committee of the SBC as a Cooperative Program Catalyst. He loves to snow ski, read, and travel.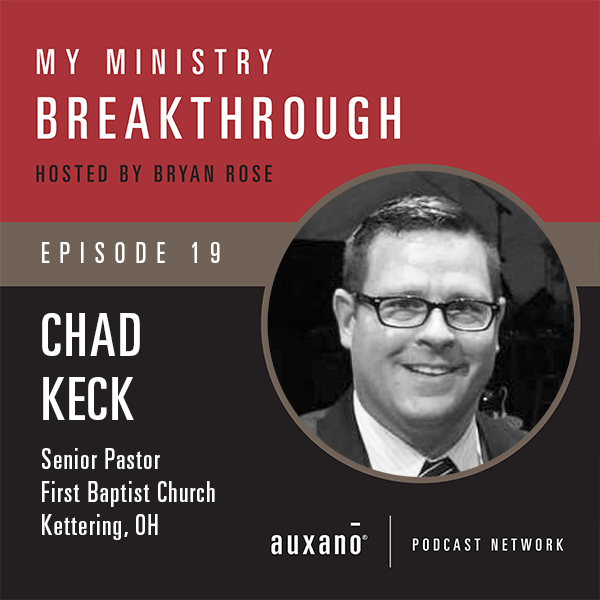 Podcast: Play in new window | Download
Subscribe: Apple Podcasts | RSS | More