2_03: Daniel Im – Should You Stay or Should You Go?
2_03: Daniel Im – Should You Stay or Should You Go?
Breakthrough ideas with Daniel: 
What does it look like to live your life with our hands wide open saying, "Lord, here we are?"
Every leader, every pastor, goes through those seasons where restlessness clouds every conversation. What do you do?
A lot of leaders that come to those seasons of the restlessness, but how do we know if it's really time to take the next step?
Does unsettledness come as a result of prayer and scripture? Or should unsettledness drive you to deeper times of prayer and time in the Word?
It is less critical where your feet are and more important as to where your heart is.
It doesn't matter if we stay, and it doesn't matter if we go, because we know that we are in God's hands and that He is a good Father.
What would it look like to submit to the Lord rather than trying to lead our lives on our own?
Bigger and better opportunities aren't necessarily always from God.
Sometimes God calls us to minister in obscurity for however long He wants, and sometimes He brings us out of that obscurity
Regardless of the attendance barrier that you want to grow or breakthrough, you need to move from doing to equipping.
You need to move from being a learner to a leader to a multiplier regardless of what barrier you want to breakthrough
The tendency that we have in the West is to copy and to model our ministries off of others rather than looking in the mirror and saying, "Okay. Who do we have here?"
Every church is unique. So what does it look like to look at yourself in the mirror, to look at your church in the mirror?
Church culture is simply the result of consistent decision-making around shared convictions.
It's one thing for the pastor to have values. It's another thing for those values to be shared within the organization and for us to make consistent decisions around them.
Discipleship is not "Here's another program," or, "Here is another study."
How are you moving your entire church toward making disciples that make disciples that make disciples?
There are a lot of books written that call churches to mimic "Here's what we do at our church. Just do this."
What are the micro-shifts that will lead to a macro-change?
Close to 40% of America is a part of the gig economy, changing the way that we look at work, life, and love.
"You are what you experience" is a lie that's risen to the surface because of Instagram and because of our culture.
Breakthrough resources in this episode:
The Next Right Thing by Emily P. Freeman
No Silver Bullets by Daniel Im  
You Are What You Do by Daniel Im  
Strengthening the Soul of Your Leadership by Ruth Haley Barton
Daniel Im is the Senior Associate Pastor of Beulah Alliance Church. His latest book is You Are What You Do: And Six Other Lies about Work, Life, and Love. He is also the author of No Silver Bullets and co-author of Planting Missional Churches. He co-hosts the New Churches Q&A Podcast, as well as the IMbetween Podcast. Daniel and his wife, Christina, live in Edmonton, Alberta with their three children. For more information, visit danielim.com and follow him on social media @danielsangi.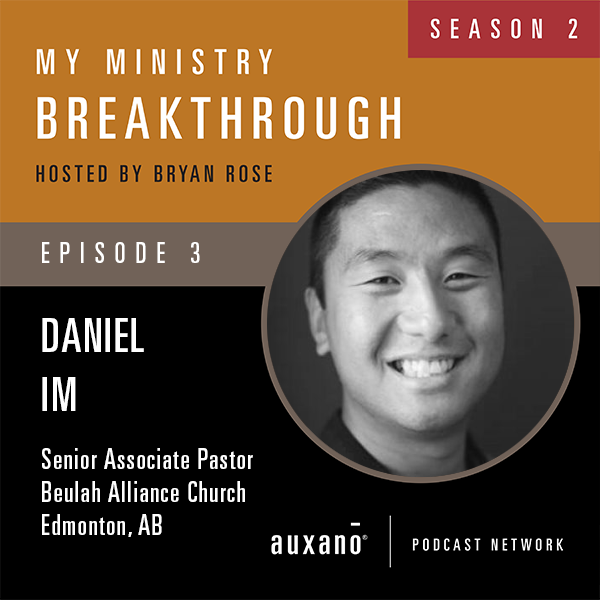 Podcast: Play in new window | Download
Subscribe: Apple Podcasts | RSS | More