20: John Parker – Visioneering Studios
Breakthrough ideas with John:
You will commit more money to church buildings and renovations than anything else, ever.
It takes a trusted guide to ensure your budget, vision, and environments align during a building project.
How can the creative culture at Disney inspire the design and construction of church facilities?
Pastors go to seminary not real estate school, knowing how your building works and what story it tells matters.
Stewardship does not always mean that the least expensive solution is the best solution.
How is your church physically communicating its uniqueness in the community and Christ?
Who is your guide from the first creative concept through the opening day of your new building?
How can your church show value to the city and community during an adaptive reuse project?
Just because you can find an empty building, doesn't mean it works for a church.
What are the variables in re-using a retail space for a church? What are the hidden costs as well as the hidden opportunities?
The right environments are only the beginning – how do you tell the great commission story of your church with every space?
Connecting people with story matters… we can tell the most excellent story ever through our environments and spaces.
Our church buildings tell a story whether we know it or not. Most church leaders are not shaping that story, instead of letting it be shaped.
What if your buildings could tell the same story of life transformation that your staff tells?
Church facilities can impact the community by being places where invitation and engagement can happen.
It's not just a building; it's not only a floor; your buildings are here for much more.
Telling your story as you build a building doesn't have to cost any more than the building itself.
Make sure you understand the vision and purpose for your new space beyond just more square footage.
The church doesn't have to be just a Sunday event from a campus perspective… how can your buildings work for the community and invite people seven days a week?
God is the best designer out there… how can we invite the arts back into the church to reflect God's creative nature?
Telling your church's story through Christ's story is the real power of design in worship environments.
Many architects are telling their own story through someone else's project by using someone else's money. Do you know your great commission story?
The process and product of your next building project can do more than gain square footage; it can tell the most excellent story of all time.
Take the long view; ministry is a journey in which longevity produces the greatest success.
Breakthrough resources: 
The Experience Economy by Pine & Gilmore
John Parker is President of Visioneering Studios and brings vast experience designing and managing a variety of development and construction projects for public and private companies. As a former Walt Disney Imagineer, John learned to bring creativity and immerse story into every project. John worked on projects for Disney in Florida and in California, winning the industry recognized TEA (Themed Entertainment Association) award for his part in the "Soarin' Over California" attraction. John holds a Bachelor's Degree in Civil Engineering from the University of California, Irvine and holds General Construction licenses in over 30 states. John serves as a commissioner on The City of Tustin's Building Board of Appeals.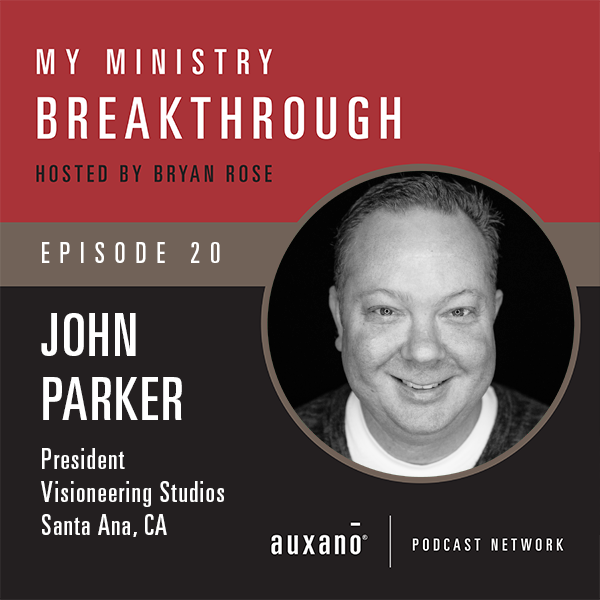 Podcast: Play in new window | Download
Subscribe: Apple Podcasts | RSS | More